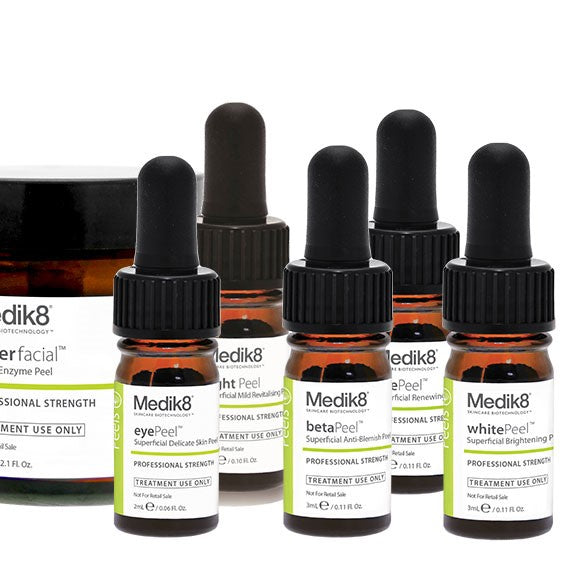 Posted on
Chemical peels continue to be the number one clinical skin treatment worldwide. At a fraction of the price of treatments such as Laser and IPL, peels can significantly reduce the appearance of wrinkles, hyperpigmentation and acne with less discomfort and downtime.
We use to think that when summer comes around peels should be avoided altogether due to increased UV exposure, but peels have changed and here are three reasons why chemical peels should continue to be a firm staple on your summer treatment protocol.

1. SAFETY FIRST
Contrary to previously thought, chemical peels can be performed safely during the summer months, as long as they are followed up with adequate sun protection and aftercare. Daily application of Ultimate Recovery™ and Physical Sunscreen SPF 30 will ensure that skin can heal quickly and safely without being subject to environmental damage.

2. QUICK FIX
If you need a pick-me-up before a big event, Medik8's Superficial Peel is the perfect solution. This mild peel can give a significant radiance boost with little to no downtime. With the addition of the new Medik8 Ultimate Recovery Bio-Cellulose Zinc Mask, the skin will be left feeling calm and radiant!

3. ACCUMULATIVE RESULTS
Medik8's While Peel is famed for its ability to provide an instant glow, the best results are achieved when they are used continuously throughout the year. Stopping treatment in the summer can not only put your skincare goals on hold, but diminish the effects of previous peels causing setbacks.

Clinical research demonstrates that incorporating Vitamin C and A into your daily skin care regime two weeks prior to their first peel and up to 3 months (if not always!!) after a course of treatments will minimise potential reactions, support the benefits of the chemical peel and continue to improve overall skin tone and texture.
Hop over to our treatments page, or give us a call to learn more about our Medik8 range of Peels.