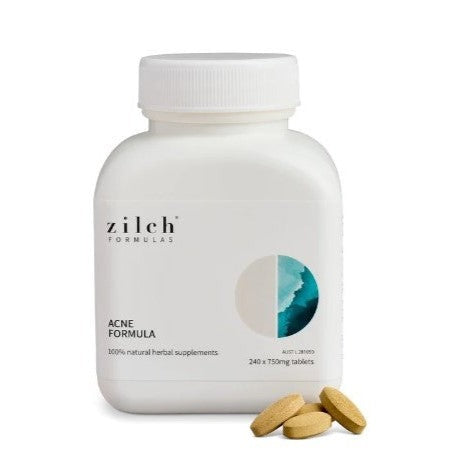 ZILCH FORMULAS
Chinese Medicine Herbal Supplement For Acne
$149.00 AUD
or make 4 interest-free payments of $37.25 AUD fortnightly with
More info
FREE STANDARD SHIPPING ON ALL ORDERS
Own it now, pay later
ZILCH ACNE FORMULA: clearly different.
240 tablet bottle / 30-60 day dose
Zilch Acne Formula is a patented 100% natural, herbal supplement–made with Chinese Herbal Medicine ingredients – designed for acne. Its powerful blend works on healing acne from the inside out to provide a real, long-term solution.
Reduces inflammation and toxicity

All natural – 100% Chinese herbal medicine active ingredients

No harsh chemicals, drugs or preservatives

Vegan and cruelty free.

100% Australian owned.

Suitable for ages 14 and up.

TGA Approved.
Zilch Acne Formula may assist with:

Deep under-the-skin, painful acne

Whiteheads (pimples that come to a head)

Acne resulting from coming off the pill

Hormonal acne

Adult acne on jawline, chin, cheeks and temples

Stubborn acne that has not responded to other treatments

Body acne (chest, back, shoulders, buttocks)

Closed comedones (clogged skin)
DOSAGE AND DIRECTIONS: Take 2-4 tablets twice a day depending on severity of acne. Zilch should always be taken on an empty stomach, at least 20 minutes away from food (Ie: allow at least 20 minutes on either side of a meal before taking). If you have a sensitive gut, try taking Zilch Acne Formula 20 minutes after a meal.
INGREDIENTS: Zilch Acne Formula comprises 17 herbal ingredients and potato starch as a binder. No added preservatives, chemicals, fillers or nasties. Active ingredients: Prunus persica, Carthamus tinctorius, Salvia miltiorrhiza, Hedyotis diffusa, Angelica dahurica, Gleditsia sinensis, Viola yedoensis, Taraxacum mongolicum, Lonicera japonica, Phellodendron amurense, Paeonia suffruticosa, Gardenia florida, Gentiana scabra, Scutellaria baicalensis, Zingiber officinale, Angelica polymorpha, Glycyrrhiza uralensis. Non-active ingredients: potato starch.
WARNING & MEDICAL DISCLAIMER: Individuals taking anticoagulants or individuals at risk of bleeding problems should seek medical advice before taking Zilch Acne Formula. Do not use if pregnant or likely to become pregnant and please consult your medical practitioner before starting on Zilch Acne Formula if you are breastfeeding. If symptoms persist, talk to your health professional. Talk to a TCM practitioner/health professional if you are unsure if this medicine is right for you.
ALWAYS READ THE LABEL AND FOLLOW THE DIRECTIONS FOR USE.

All content and information on this website is general in nature and does not intend to constitute medical diagnosis, medical treatment and medical advice. Our product(s) is not individualised (it is not a product that is tailored specifically to you) and all information provided is not a substitute for medical advice and is general in nature.

Please consult your medical practitioner or doctor if you have any queries before taking this product, continuing this product or if you have any questions about medical conditions.

We cannot give any specific or personalised advice. For advice specific to you (eg: ingredients and allergies, current symptoms and medical conditions), please consult your healthcare professional.

No content about this product is designed to be misleading.

Reactions/allergies to any ingredient(s) in our product(s) is possible, as is reactions/allergies to any ingredient in any goods. Individuals are advised to seek medical advice from your healthcare practitioner or doctor if there are any concerns before starting our product(s).


AUSTRALIAN SHIPPING RATES
All orders will be shipped within 24-48hrs of purchase.

Medik8 Skincare marked as "special order" may take 48-72hrs to ship.

Standard Shipping is FREE for all orders.

Standard Shipping with Signature is $2.95.

Express Shipping without Signature is $11.78.

Express Delivery Signed For Shipping is an extra charge of $2.95.

All orders are sent via Australia Post Parcel Post Delivery and can be tracked. A tracking number will be sent to you upon shipment. All orders are sent with a "Signed For" option so someone must be present to receive it.

Mi:skn Clinic cannot take responsibility for any items that are lost or damaged in transit.

It is the responsibility of the customer to ensure all postage and contact details are correct before completing their order. MI:skn Clinic cannot be accountable for products not received due to the submission of incorrect address or personal details.
A full refund will be issued for faulty skincare or makeup packaging or content once the item has been returned and the fault has being accepted by the national distributor.
Refunds or exchanges will not be issued on skincare or makeup items if you have ordered the wrong product or changed your mind. So please choose carefully.