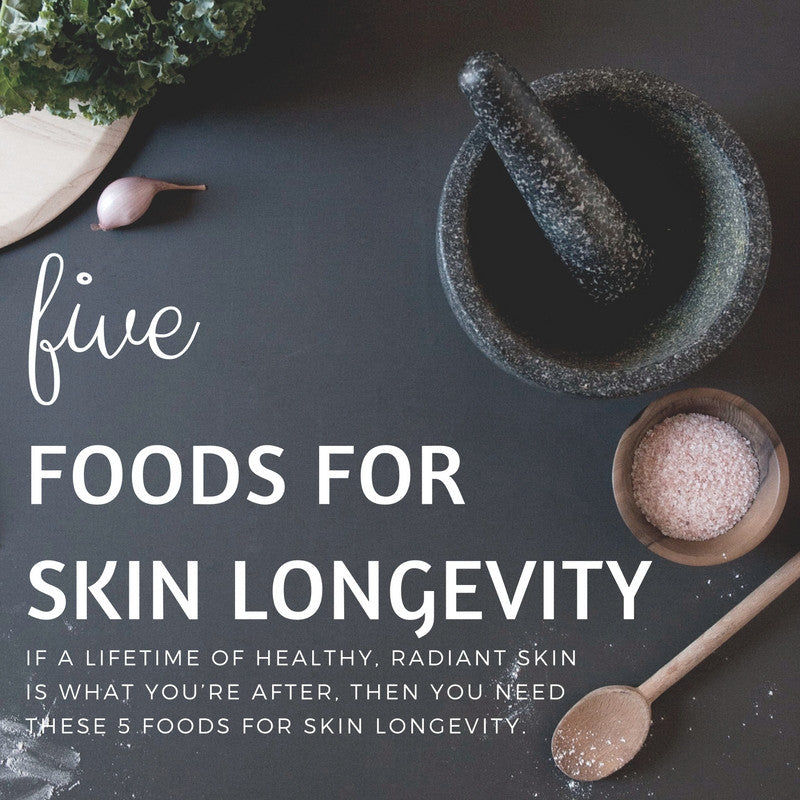 Posted on
Your health, emotional state and overall well-being are influenced not only by external environmental factors, but also by what we're putting into our bodies. As skin is the largest organ in our body, if we're not putting good food into our system, then inevitably we are bound to get some undesirable skin issues.
It's never too late to turn our skin-diet around and start including some high nutrient, antioxidant rich, clean foods. Ideally sustainable, local and organic.
Here are a 5 great ingredients for skin longevity and to slow down ageing:
WILD SALMON
Containing the ultimate anti-aging nutrient - omega-3 fats - this healthy fat can fend off heart disease, improve your skin and reverse sun damage. You'll also benefit from Vitamin D and selenium for healthy skin, nails, and hair.
GARLIC
Garlic promotes the growth of white blood cells, the body's natural germ fighter. It also boasts powerful antibacterial, antifungal and antiviral agent and is jam-packed with antioxidants. The antioxidants within garlic can protect the skin against damage caused by oxidisation and environmental stresses – perfect for keeping those wrinkles at bay!
BERRIES
Berries are the go-to for beauty boosting benefits. They are high in protective plant antioxidants, have phytochemicals that have been associated with healthy ageing. They also increase the potency of Vitamin C intake, essential as a skin anti-oxidant. Be sure to go organic with these to avoid any possibility of pesticides.
NUTS
Containing healthy oils, fibre, vitamins and minerals all essential for healthy skin. Nuts also contain the amino acid arginine, which enhances the production of collagen in the body. Arginine also speeds up wound healing, perfect to aid in the recovery of acne scars.
DARK LEAFY GREENS
Packed with a selection of antioxidants, folate and carotenoids, Vitamins K, C, E plus your top four essential minerals - calcium, magnesium, iron and potassium. You'll also benefit from a huge amount of Vitamin A, which is vital to support the turnover and production of healthy skin cells.