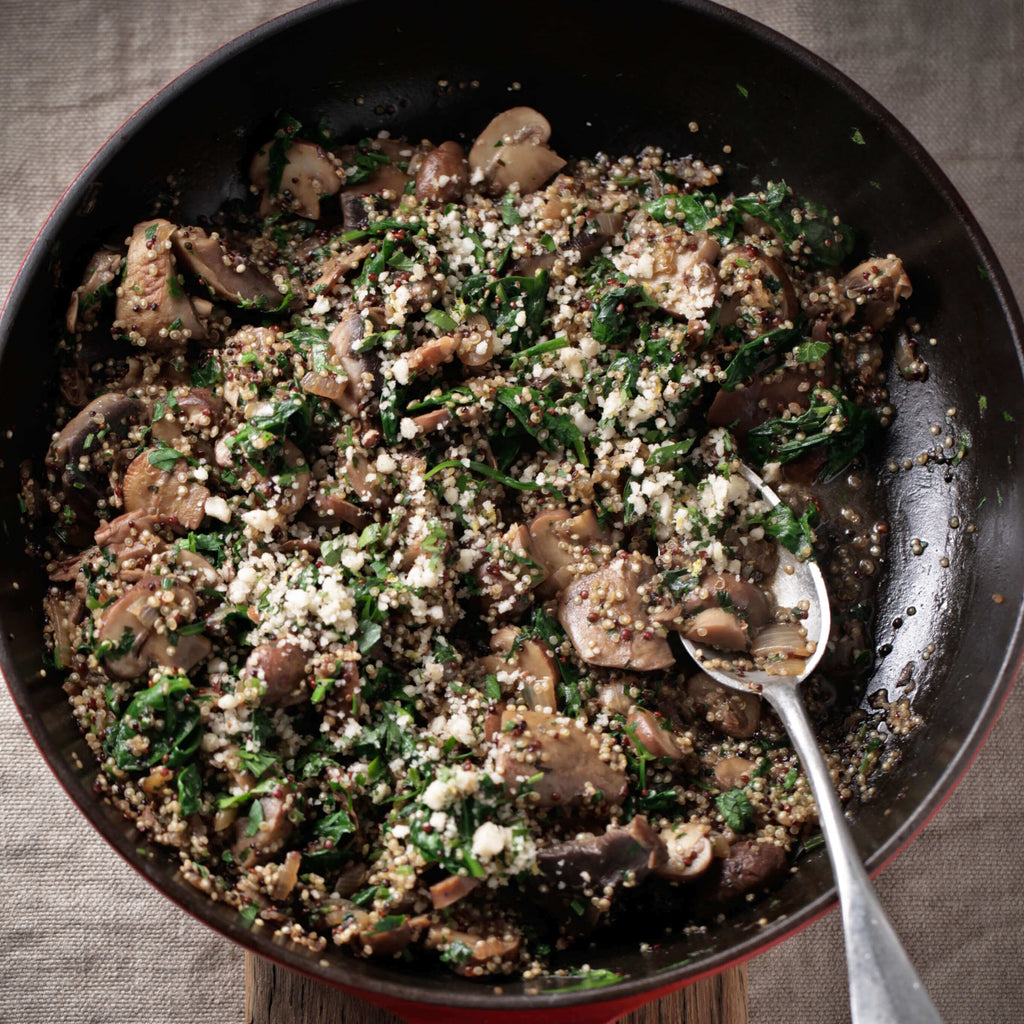 Posted on
Looking for a wintery skin friendly dish to make tonight? This delicious risotto from The Healthy Chef is grain free, dairy free and packed with potassium, Vitamin B and proteins. Leftovers, if you can stop at one serving, reheat perfectly the next day. 
YOU'LL NEED:
20 g dry porcini mushrooms
2 shallots, finely diced
650 g assorted mushrooms
1/2  cup raw quinoa, washed and rinsed well
500 – 750 ml filtered water 
1 bunch parsley, chopped
100 g baby spinach leaves
50 g Brazil Nut Parmesan (see recipe below )
Black pepper and sea salt to taste
PUT IT TOGETHER:
Soak the porcini mushrooms in ½ cup boiling water for 10 minutes.
Sauté the shallot in a little oil until golden.
Break up some of the larger mushrooms with your fingers so that you get nice rustic pieces. Slice the rest if necessary.
Add the mushrooms to the browned shallots in the pan.
Sauté for a few minutes or until they start to colour.
Add quinoa and 500 ml of water or stock if using.
Mix through, cover and cook over a low heat for 15 – 20 minutes or until water has been absorbed and quinoa is tender.
Add the spinach and parsley.
Add more water or stock if necessary.
Season with sea salt and pepper.
Top generously with Brazil Nut Parmesan.
Divide into serving bowls and enjoy or place the pan in the middle of the table and share with friends.
BRAZIL NUT PARMESAN
1 cup raw Brazil nuts
1 small clove of garlic
Pinch Celtic sea salt
1 lemon
2 tablespoons chopped parsley
Combine Brazil nuts, garlic and salt in a food processor.
Process for about 15 seconds or until crumbly.
Add the zest of grated lemon and parsley.
Mix through and store this delicious vegan Parmesan in a glass jar in the fridge for up to 1 week.
Enjoy over salads, risotto or steamed vegetables.