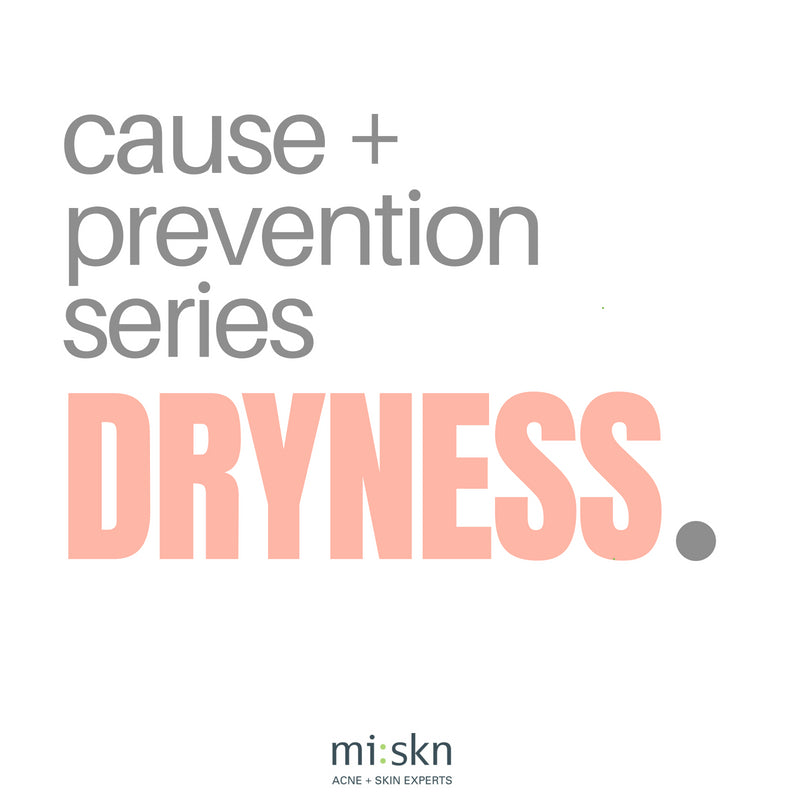 Posted on
Dehydrated skin is an issue we all face at some point. Some of us were born with naturally dry skin, but most of us lack hydration due to environmental and lifestyle factors. In both cases it is essential to replenish the impaired skin barrier in order to restore the hydration to dry, compromised and dehydrated skin types.
DRY VS DEHYDRATED
Many people believe dry and dehydrated skin are the same thing, but there's a fundamental difference - dehydrated skin is lacking in water, while dry skin is lacking in natural skin lipids (oils).
CAUSES + PREVENTION DRY SKIN
Genetically dry skin is actually quite rare. If this is your natural skin type it means your skin naturally produces less oil. Although you cannot change your skin type, you can use a nourishing skincare to balance your skin lipids and add essential fatty acids to your diet, this will increase lips in the skin allowing the cells to retain water more efficiently.
CAUSES + PREVENTION DEHYDRATED SKIN
Dehydrated skin is a signal of an impaired skin barrier: the skin's upper layer has a natural protective barrier formed from lipids and skin cells. Skin cells are packed like bricks with lipids acting as their mortar. This structure helps to stop irritants and aggressors getting into the skin and also prevents water from escaping. When the skin's barrier is impaired, it allows water to escape, leaving the complexion dehydrated.
Dehydrated skin can be experienced by everyone, even oily skin types. It can be caused by the sun, hard water, air-conditioning and heating. Dehydrated skin will look dull and feel tight, while dry skin will appear flaky and rough.
Sometimes dehydration can be exacerbated by using inappropriate skincare products that strip the skin of its natural oils, impairing the skin's protective barrier. 
The best form of prevention for dehydrated skin is to use skincare that is suitable for your skin type and is not too harsh or stripping. During the winter months add a hyaluronic acid serum for deep hydration and always wear a moisturiser to form a barrier between your skin and the environment. As with dry skin types, dehydrated skin will benefit from a high potency fish oil supplement, which will work internally to balance lipid levels and restore the skin barrier.