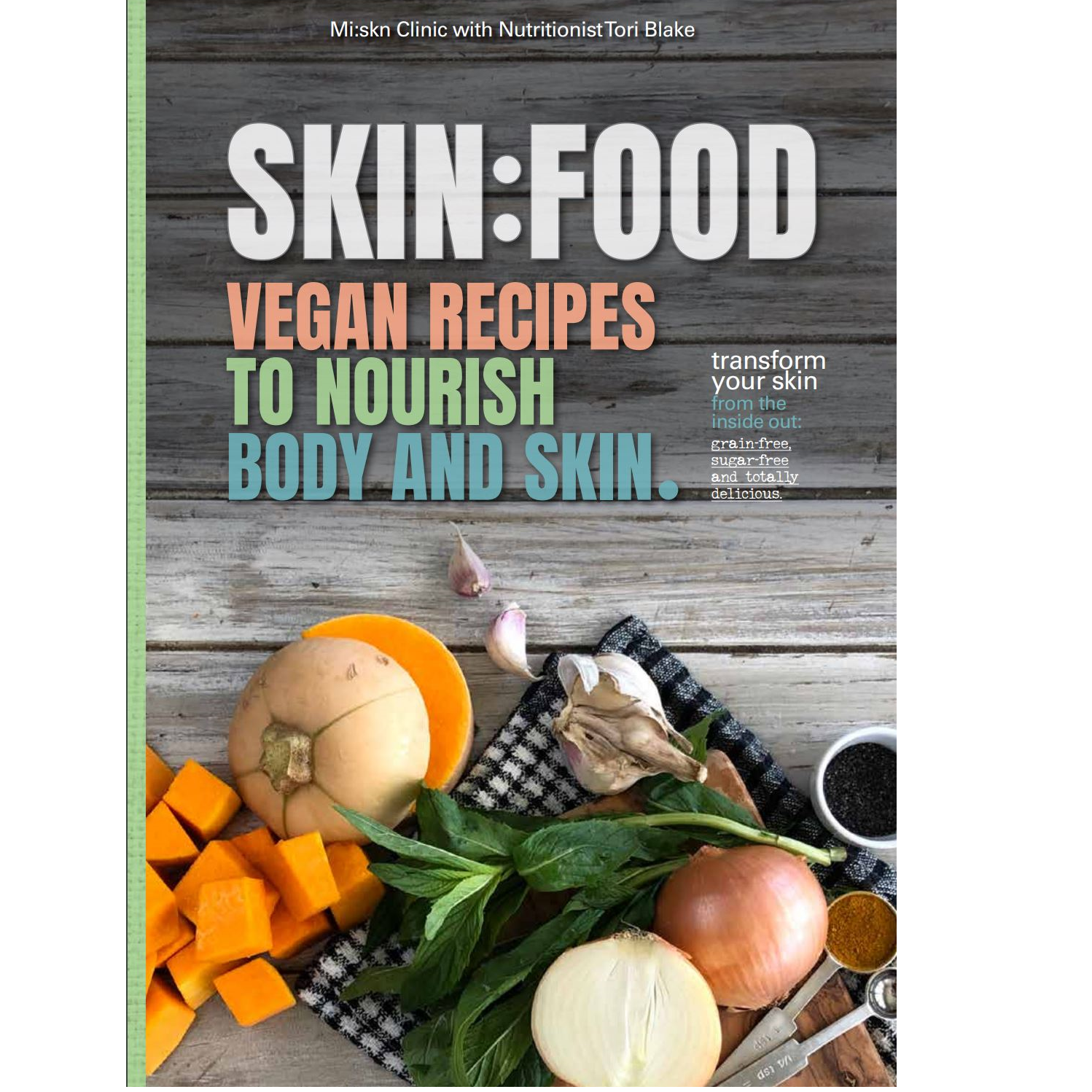 Mi:skn Clinic
VEGAN SKIN:FOOD BOOK + SIX WEEK SKIN REBOOT PLAN - DOWNLOAD
This download includes a copy of Skin:Food plus a print of the Six Week Skin Reboot Plan.
A collection of vegan skin-friendly recipes, created by Mi:skn Clinic in collaboration with Nutritionist Tori Blake. 
Yes, it is possible to be grain-free and vegan - we show you how!
From breakfast to main meals and snacks, Skin:Food is packed with easy-to-follow recipes that are not only delicious but good for your skin! All recipes are grain-free,  and sugar-free, and designed to calm, heal and soothe inflammatory skin conditions. 
Vegan Skin:Food and the Six Week Skin Reboot Plan were created to guide our clinic clients through their skin-healing journey.  This book and plan are used by all our clinic clients struggling with breakouts or any other inflammatory skin condition. Its success in changing eating habits and managing skin conditions has led us to want to share it with the world - so you too can heal your skin from the inside-out. Of course, as with any dietary change, we recommend you consult your medical practitioner before embarking on a new regime.
All recipes are designed to be vegan, but can be adapted to suit vegetarians. Simply add eggs and dairy yoghurt to your recipes. 
AUSTRALIAN SHIPPING RATES
All orders will be shipped within 24-48hrs of purchase.

Medik8 Skincare marked as "special order" may take 48-72hrs to ship.

Standard Shipping is FREE for all orders.

Standard Shipping with Signature is $2.95.

Express Shipping without Signature is $11.78.

Express Delivery Signed For Shipping is an extra charge of $2.95.

All orders are sent via Australia Post Parcel Post Delivery and can be tracked. A tracking number will be sent to you upon shipment. All orders are sent with a "Signed For" option so someone must be present to receive it.

Mi:skn Clinic cannot take responsibility for any items that are lost or damaged in transit.

It is the responsibility of the customer to ensure all postage and contact details are correct before completing their order. MI:skn Clinic cannot be accountable for products not received due to the submission of incorrect address or personal details.
A full refund will be issued for faulty skincare or makeup packaging or content once the item has been returned and the fault has being accepted by the national distributor.
Refunds or exchanges will not be issued on skincare or makeup items if you have ordered the wrong product or changed your mind. So please choose carefully.