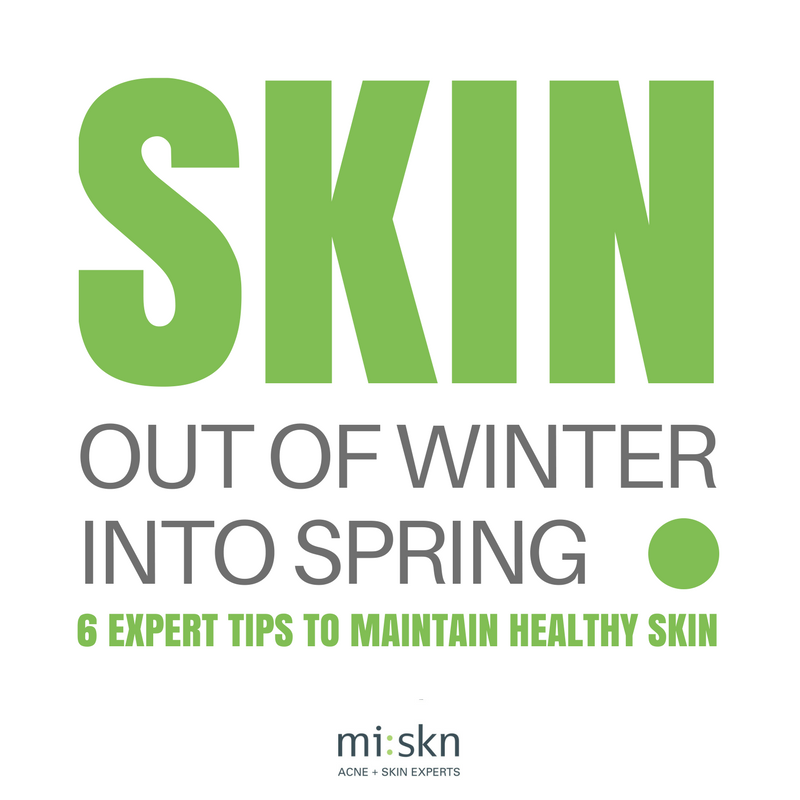 Posted on
Any change in season can play havoc with your skin, from the dry cold to humid warmer days it's hard for your skin to adjust to the new climate. Here's 6 expert tips to keep your skin happy and healthy during the seasonal changes. 
1. STAY AWAY FROM HOT SHOWERS + THE HEATER
We appreciate that a good, hot shower or hugging the heater can warm you up on a crisp spring night, but we also know that there is nothing more dehydrating for the skin. Not only are excessively hot showers and heaters dehydrating, but they actually cause the skin to essentially sweat out it's natural oils, which can cause skin irritations and sensitive skin.

2. EXFOLIATE WEEKLY OR HAVE A PEEL
Exfoliation is really your secret weapon to glowing skin, in any season! The process can help combat the signs of ageing by removing your surface layer dead skin cells to allow for penetration of your skincare ingredients, as well as allowing your skin to breathe as it's designed to. You can exfoliate with a manual scrub such as Medik8 Pore Refining Scrub, or let the active acids in Pore Cleanse Gel or Beta Cleanse gently melt away dead skin cells.

3. HYDRATE + MOISTURIZE 
As an acne specialist clinic, we see a lot skin that is not operating at its optimal level due to the incorrect approach to hydration. Typically, those with an oily skin would assume that they needn't worry about a moisturizer or hydrator…unfortunately that's not how it works.

The skin naturally produces sebum (oil) as an excretory method; although this is somewhat hydrating to our skin, it's unfortunately not the right hydration which is needed for the skin to function at its best. So whether your skin is oily, combination or dry it is imperative to hydrate it with a moisturizer that is suited to your skin type. Correct delivery of hydration means your skin can stop over producing oil and as a by-product have less breakouts!

4. MAKE THE MOST OF SERUMS
Skin, is skin. Anatomically all skin is designed to function the same way. We may need skincare to be formulated or delivered differently depending on our skin type, but all skin needs the same core ingredients. Every skin type will benefit from ongoing delivery of Vitamins C (brightening, protecting) and Vitamin A (anti-aging, sebum balancing), plus Hyaluronic Acid (hydration) to function at their best!

Serums deliver nutrients to the deeper skin layers and work from the cell formation and up towards the surface skin, while the moisturisers work from the surface down to allow for a full 360 degree effective skin regime for any age of skin and any skin type.
5. CHANGE YOUR CLEANSER
Are you still on the same cleanser as you were when you were first introduced to skin care because you once had dry or oily skin? It's likely that your skin has changed since then, and we know this because we also know that the skins needs change naturally from season to season too.
With this in mind, it's worth exploring to see if your cleanser is now too active for your skin. Ask our advice on which cleanser is now best suited to your skin. Rotating two Medik8 cleansers is a great way to balance out your skin. 

6. PROTECT
It is no secret that SPF is everyone's number one anti-aging and healthy skin go-to. Not only does it protect against harmful UVA and UVB rays that lead to pigmentation, photo-damage and sun-damage. But thanks to key active ingredients like zinc oxide and titanium dioxide, you'll also be repairing and shielding your skin from other environmental factors. In addition the new Medik8 Physical SPF contains anti-pollution shields that further protect your skin from damage caused by living a modern lifestyle.